The PGA has made its golf industry group more accessible following the introduction of a new free access package.
Launched in 2020, the Business Management and Club Volunteer groups were created for all those working or volunteering in golf, with a clear aim of bringing the industry together with a common goal.
Both groups have successfully enabled the workforce of golf to engage and benefit from the development and support services available to PGA Professionals. To allow even more of the industry to come together changes have been made to the structure and pricing.
The biggest change is that there is now an entirely free, entry-level package that ensures BMG is open to absolutely everyone in the game.
A second, low-cost option – BMG Plus – has also been created with a £50 price point. This includes an annual subscription to Golf Business Quarterly magazine which features the biggest voices in the golf industry, provides genuine analysis of key data relating to topics such as participation, growth of the game and retail, along with wide-ranging content to help readers become better industry professionals.
The existing full membership package – now called BMG Premium – is also still available to new and existing members, offering the entire suite of benefits including access to PGA Learn (The PGA's extensive professional development resource), access to a golf consultancy and recruitment service through The PGA's Business Relationship Officer network, priority access to PGA events and a subscription to GBQ.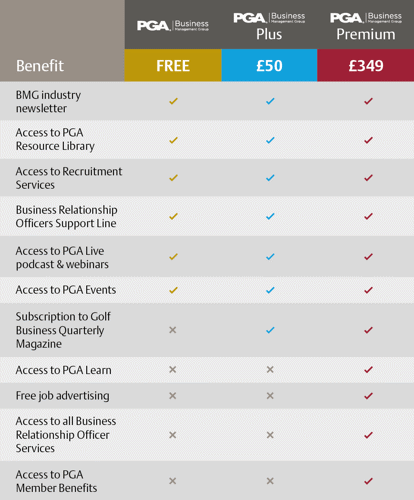 Membership of BMG at any level will enable members to develop skills relevant to their roles, enjoy industry insights and best practice through a range of bespoke communications, have access to support and training services, as well as the opportunity to participate in industry events as part of a leading network of golf industry peers.
Another significant change being announced is that there will no longer be two groups – all those signed up, including volunteers, will now be members of the Business Management Group, recognising the close overlap between these two categories.
The focus for both groups has always been on helping to support and develop the workforce of golf, whether they're employed or volunteering in golf clubs, hotels, travel, operations, retail, equipment or any other golf business. This will continue with the new membership structure.
"The introduction of our industry groups was very positively received by the golfing community," said Tristan Crew, the PGA's Executive Director, Member Services. "The post-pandemic landscape has allowed us to re-evaluate the BMG product and a decision has been made to add supplementary levels of BMG membership to better provide for the varying needs of the industry. Simplifying and modifying the proposition in this way confirms our commitment to supporting and bringing the entire golf industry together for the good of our game.
"Our new structure now makes the Business Management Group more accessible to all those individuals in our industry whether they be volunteering on club committees, working at golf clubs or in the wider golf industry."
Robert Maxfield, the PGA's Chief Executive, added: "We have spent a great deal of time evaluating our proposition and made changes that will better serve the golf industry and allow The PGA to achieve our ambition of supporting the workforce of golf."
CLICK HERE to find out more about The PGA's Business Management Group.