Sports performance footwear company PAYNTR has entered the golf industry with the launch of the X 001 F golf shoe, which boasts a unique traction system based on biomechanical principles.
PAYNTR Golf is the result of a partnership between former English professional cricketer David Paynter and long-time golf shoe industry expert Mike Forsey, who is based in Oregon, USA.
Paynter first got into the sports shoe business in 2017 after launching a range of cricket shoes that offered a new level of performance and comfort for cricketers competing at all levels of the game, including a number of high-profile test players.
Having proved a huge hit with its shoes in the red ball game, PAYTNR has now launched into the white ball game with a golf shoe, the X 001 F, which offers all the performance attributes demanded of a tour-level golf shoe.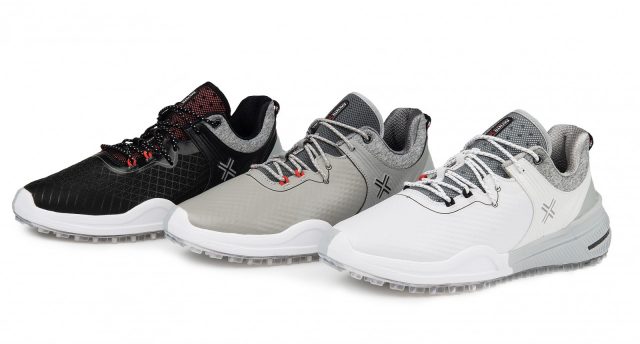 Speaking about his decision to move from cricket footwear into the competitive golf shoe market, Paynter said: "When I launched the PAYNTR brand in the UK with a cricket shoe three years ago, I always had aspirations to expand into other sports. When customers started telling me I should go into golf, I knew we had something special. When I met Mike Forsey, that was the key sign to start golf."

Although a keen golfer, Paynter called on the expertise of long-time golf shoe designer Forsey to create the X 001 F. Having designed golf shoes for FootJoy, Nike Golf and, most recently Under Armour, and created shoes for many of the world's best players, including Greg Norman, Tiger Woods and Jordan Spieth, US-based Forsey knows a thing or two about the performance demands of a golf shoe.
Forsey led the technology team that has developed PAYNTR's X 001 F golf shoe, which fuses a series of contrasting elements to enable golfers to harness the power in their swing. PAYNTR has created the term 'Performance Multiplied' to describe the effect of bringing all these technologies together.
"'Performance Multiplied' is not just a marketing tagline for the brand, it's foundational in everything we do," says Forsey. "We are inspired by creating new, solution-based product, and our design methodology is deeply grounded in the biomechanics of the golf swing and the on-course needs of the golfer. By blending or 'multiplying' informed style with true performance-enhancing benefit, PAYNTR GOLF is well positioned to become the innovative product alternative for the passionate golfer."
The shoe itself features a multi-density TPU outsole with a 3D traction system that features a series of V-shaped knubs in the medial forefoot and lateral heel area to prevent rotational slippage, while a dual durometer midsole supports the horizontal weight shift with a firmer EVA material with rounded nubs in the lateral heel and medial forefoot zones to enhance flexibility and keep the foot on the ground as long as possible. A softer EVA material in the lateral and medial heel, and a graphite power plate in the midsole cavity provides a responsive energy return that allows golfers to harness ground reaction forces during the golf swing.
A lightweight breathable upper made from woven jacquard is treated with a hydrophobic coating that beads away rain for effective waterproofing, while a vented tongue wicks moisture away from the foot.
Available in a choice of three colours ­­– white, grey and black – PAYNTR X 001 F shoes will initially be available to buy online in the US and the UK from March 1, at www.payntrgolf.com and www.payntrgolf.eu, priced at $160 and £120 respectively. Discussions are currently ongoing with trade and retail partners with a view to expanding the distribution channels.
PAYNTR Golf has also launched a range of golf accessories, including a glove, a hat and socks, which will be available to purchase online from March 1.